Last week I got the idea to just start asking every shop that signs up for a coupon code, and it's working out pretty well! I finally got this page up so we can all share in the sales:
http://etsycontest.com/coupons.php
Of course then what happened? As soon as the page was up I noticed this lovely bracelet by BeautifulMachine right up at the top, and couldn't pass up the discount, I bought it and another one from her shop. So, sorry all, that bracelet is gone. But there's more in the shop it came from!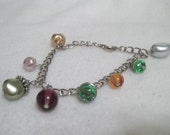 March 4th, 2012 - featured
Handcrafted Beaded Charm Bracelet
by BeautifulMachine